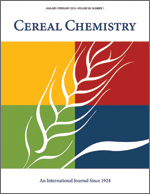 Cereal Chem 60:461 - 463. | VIEW ARTICLE
Amino Acid Composition of Six Grains and Winter Wheat Forage.

D. D. Morey and J. J. Evans. Copyright 1983 by the American Association of Cereal Chemists, Inc.

Amino acid profiles were determined on grain of five cultivars each of winter wheat (Triticum aestivum L.) and triticale (Triticosecale, Wittmack), on three cultivars of rye (Secale cereale L.), and on one each of barley (Hordeum vulgare L.), oats (Avena sativa L.), and soybean (Glycine max (L.) Merr.) grown in Georgia during two seasons. Oat grain had the most desirable amino acid composition of all grains tested. Oats excelled in lysine, arginine, valine, leucine, isoleucine, and phenylalanine. Oats were equal to other cereal grains in threonine, methionine, and histidine. Barley did not exceed oats in any of the essential amino acids. Lysine content was lower in high-protein (16.5%) barley, whereas glutamic acid and proline were higher. Triticale and rye grains were higher in lysine than wheat grain. The new triticale cultivar Beagle 82 was higher in lysine, histidine, arginine, aspartic acid, threonine, serine, glycine, alanine, valine, methionine , leucine, isoleucine, tyrosine, and phenylalanine than other triticale cultivars tested. Wheat cultivars were lowest in lysine and low in threonine and valine content. Soybeans were low in methionine and lower than oats in valine content. No seasonal differences were found in amino acid composition of wheat, triticale, and oat cultivars, although crude protein varied from season to season. Succulent wheat forage at the grazing stage was high in most essential amino acids, but was low in glutamic acid and proline and very low in cystine.