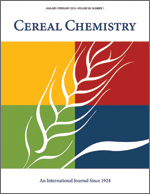 Cereal Chem 60:58 - 61. | VIEW ARTICLE
Effects of Flour Components and Dough Ingredients on Starch Gelatinization.

K. Ghiasi, R. C. Hoseney, and E. Varriano-Marston. Copyright 1983 by the American Association of Cereal Chemists, Inc.

In high-water systems, starch and flour gave the same endotherm initiation temperatures. In low-water systems, however, the second (higher temperature) differential scanning calorimeter peak was much smaller with starch than with flour. As the level of gluten or xanthan gum mixed with starch was increased, the size of the second differential scanning calorimeter peak increased. We speculated that in a starch system, water migrates during starch gelatinization. In dough, gluten severely limits such migrations. That phenomenon and the fact that some areas within each starch granule require a higher temperature to gelatinize explains the effects noted in limited-water systems. As the level of sucrose was increased in a dough, the transition temperature increased, and the gelatinization temperature range decreased. At the level found in bread doughs, both sugar and salt increased starch gelatinization temperature. The two ingredients have an additive effect on gelatinization temperature, whereas shortening shows no effect.