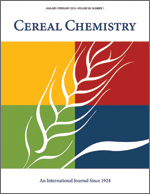 Cereal Chem 60:62 - 64. | VIEW ARTICLE
Xanthan Gum in a Reduced-Egg-White Angel Food Cake.

L. L. Miller and C. Setser. Copyright 1983 by the American Association of Cereal Chemists, Inc.

Xanthan gum is suggested as a replacement for certain ingredients in cake systems. Additions of 0.4% xanthan gum, 50% water, and/or 25% wheat starch, based on flour weight and in all possible combinations, were made to angel food cakes containing 65% total egg white. Analysis of variance of physical and sensory data revealed that the cakes differed significantly (P less than or equal to 0.05) as a result of treatment. Xanthan gum increased foam stability, and wheat starch contributed to structure of cakes containing reduced egg white. Added water lowered egg-white surface tension, allowing greater air incorporation. Instrumental measurements of firmness and springiness and sensory analysis by a six- member, experienced panel (using a five-point category scale) indicated that cakes with 50% added water and 25% wheat starch were more similar to 100% egg-white cakes than were cakes in which xanthan gum was used alone or in combination with water and wheat starch.