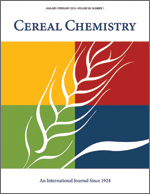 Cereal Chem 60:74 - 79. | VIEW ARTICLE
Experimental Baking Techniques for Evaluating Pacific Northwest Wheats in North African Breads.

H. A. Faridi and G. L. Rubenthaler. Copyright 1983 by the American Association of Cereal Chemists, Inc.

Experimental laboratory baking techniques and evaluation methods were developed for making four important North African breads: Tunsian "Terablesi," Moroccan, white Arabic, and Egyptian balady. Twelve wheat varieties representing two classes (hard red winter and white) including four subclasses of white wheat (soft white winter, soft white spring, club and Western white) were evaluated. An Australian standard white wheat was included for comparison. Wide differences in baking performance and rheological properties were found among varieties. Daws, Wanser, Nugaines, Western white, and Australian standard white performed satisfactorily in all breads. Performance of Stephens, Hyslop, McDermid, DPA, DPB, and DPC was less satisfactory. Supplementing with 50 ppm ascorbic acid and 0.25% malted barley enhanced bread quality of all varieties in most breads.