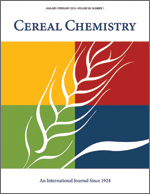 Cereal Chem 60:98 - 101. | VIEW ARTICLE
Inhibition of Alpha-Amylase-Catalyzed Starch Granule Hydrolysis by Cycloheptaamylose.

R. J. Weselake and R. D. Hill. Copyright 1983 by the American Association of Cereal Chemists, Inc.

Cycloheptaamylose (CHA) inhibited the adsorption of triticale and wheat alpha-amylases to wheat and waxy maize starch granules at 4 C. The adsorption of both amylases to wheat starch granules was inhibited 50% by 0.5 mM CHA. With waxy maize starch granules, however, 2 mM CHA was required for 50% inhibition of triticale alpha-amylase and 30% inhibition of wheat alpha-amylase. The effect of CHA on adsorption of wheat alpha-I and wheat alpha-II amylase to wheat starch differed little. Hydrolysis of starch granules catalyzed by the cereal alpha-amylases was inhibited 20-60% by 0.88 mM CHA. At 15 C, the solubilization of wheat and of waxy maize starch granules by either triticale or wheat alpha-amylase was inhibited to the same extent by CHA. Solubilization of wheat starch by wheat alpha-amylase I was inhibited 40% by 0.88 mM CHA, whereas wheat alpha-amylase II solubilization was inhibited 35%. Inhibition of solubilization was similar for the cereal alpha-amylases and wheat starch granules at 35 C and comparable to that obtained at 15 C. The hydrolysis of waxy maize starch granules by either amylase was inhibited by CHA almost twice as effectively at 35 as at 15 C. CHA had similar effects on appearance of soluble carbohydrate and of reducing activity. The evidence suggests that a noncatalytic site on the cereal alpha- amylase might facilitate the hydrolysis of starch granules by adsorption of the enzyme to the granule at this site.