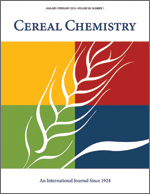 Cereal Chem 60:102 - 106. | VIEW ARTICLE
Relationships of Sensory Characteristics and Gas Chromatographic Profiles of Soybean Protein Products.

K. Warner, T. L. Mounts, J. J. Rackis, and W. J. Wolf. Copyright 1983 by the American Association of Cereal Chemists, Inc.

To survey the present state of soy protein processing, commercial samples were evaluated for odor and flavor and analyzed by gas chromatography for volatile constituents and by microbiological procedures for molds, aerobic bacteria, and coliforms. Sensory tests showed flavor score ranges of 5.5-6.3 for flours, 4.4- 5.9 for concentrates, 5.1-6.9 for isolates, and 5.3-6.7 for textured flours. Some objectionable flavor characteristics of raw soy were retained, and detrimental off-flavors were generated during processing. Major volatile constituents were residual solvents (ethanol and hexane) and hexanal. Significant statistical correlations exist between total volatiles and flavor scores of soy concentrates and isolates. Microbiological test results were typical of standard profiles. Direct gas chromatographic analysis was useful to screen soy products of known history for residual solvent and for content of volatile components related to oxidative deterioration.