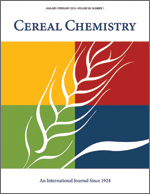 Cereal Chem 60:107 - 111. | VIEW ARTICLE
Biochemical and Agronomic Studies of Two Modified Hard-Endosperm Opaque-2 Maize (Zea mays L.) Populations.

E. I. Ortega and L. S. Bates. Copyright 1983 by the American Association of Cereal Chemists, Inc.

During the development of two hard-endosperm, opaque-2 (HEo2) maize (Zea mays L.) populations, modifier genes were accumulated through several cycles of selection, to increase the proportions of vitreous and dense kernels (HEo2 phenotypes). Lysine content of the modified materials was intermediate compared with normal and opaque-2 soft endosperm maize and was kept constant during agronomic improvement by a laboratory chemical screening procedure. Protein fractionation studies using a modified Landry-Moureaux procedure revealed that fraction I (albumins, globulins, and soluble nitrogen) content decreased, whereas fraction III (zeinlike) components increased parallel to cycles of selection. Characteristic of the modified HEo2 structure was the high concentration of the zeinlike components, which increased in concentration as endosperm hardness of the population was improved through cycles of selection. No qualitative changes in any protein fraction components occurred during cycles of selection. A quantitative change in the proportion of two closely related zeinlike components was found during the later cycles of selection of one of the modified HEo2 populations studied with polyacrylamide gel isoelectric focusing (PAGIF). Differences between zein and zeinlike polypeptides were established on the basis of their pI in PAGIF. Common components in both fractions suggested that they resulted from different subunit or molecular associations with other components.