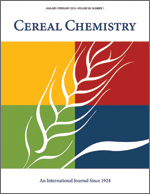 Cereal Chem 60:161 - 165. | VIEW ARTICLE
Caryopsis Structural and Imbibitional Characteristics of Some Hard Red and White Wheats.

G. Huang, A. J. McCrate, E. Varriano-Marston, and G. M. Paulsen. Copyright 1983 by the American Association of Cereal Chemists, Inc.

Caryopsis structure and water imbibition of red and white wheat cultivars were investigated to determine differences that might relate to sprouting characteristics of the two classes. Separation of integuments and seed coats of 14 cultivars was rated by scanning electron microscopy. Cultivars that differed in sprouting resistance were examined by scanning electron microscopy and light microscopy. Water imbibition of cultivars and penetration of 3H2O during germination were determined for cultivars that differed most in structural characteristics. White wheat cultivars exhibited looser integument structure and greater separation between the seed coat and tube cells of the inner pericarp than did red wheat cultivars. The pericarp of white wheats frequently was folded and generally was weaker than that of red wheats. Water was imbibed faster and penetrated deeper into the kernels of the white wheats than into kernels of the red wheats. Although caryopsis structural features of white wheats enhanced permeation of water and decreased mechanical impedance to embryo expansion during germination, they must be considered among the multiplicity of physiological factors that determine sprouting characteristics of wheat.