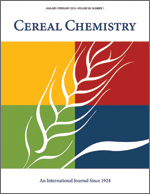 Cereal Chem 60:185 - 188. | VIEW ARTICLE
Microbial Growth Inhibition by SO2 or SO2 Plus NH3 Treatments During Slow Drying of Corn.

S. R. Eckhoff, J. F. Tuite, G. H. Foster, A. W. Kirleis, and M. R. Okos. Copyright 1983 by the American Association of Cereal Chemists, Inc.

Microbial growth in three bins containing corn with 26.5% initial moisture was monitored during ambient air drying. One bin was treated by the "trickle" procedure, with two equal applications of 0.066% SO2 (weight of SO2/weight of wet corn) at one and 28 days. The second bin was treated on the same days with 0.066% SO2 followed immediately by 0.018% NH3. The third bin was a control. Six kinds of fungi and bacteria grew rapidly in the control bin and reduced the corn to sample grade. The corn treated with SO2 showed little microbial growth for the first 60 days of storage. Subsequently, however, Penicillium grew in the top third of the bin, but little visible deterioration occurred, and the SO2- and SO2-NH3-treated corn was graded No. 2 or better. The sequential SO2-NH3 treatment was similar to the SO2 treament, with no indication that the combination treatment was superior. Neither treatment affected the market grade, milling yields, or protein and ash content of the corn, but both were mildly corrosive to galvanized steel.