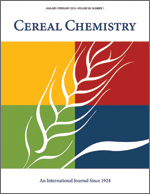 Cereal Chem 60:208 - 211. | VIEW ARTICLE
Factors Affecting Water Uptake of Soybeans During Soaking.

K. H. Hsu, C. J. Kim, and L. A. Wilson. Copyright 1983 by the American Association of Cereal Chemists, Inc.

Water uptake of soybeans during soaking was determined by recording the weight increase in beans with respect to time. Temperature was found to influence the rate of water uptake, with higher rates associated with higher temperatures. Up to one percent sodium bicarbonate showed little effect on the rate of water absorption; however, a slower rate was observed at higher concentrations. The rate and maximum amount of absorption showed little correlation with the protein content, density, and size of the bean. Pre-extraction of beans with methanol increased the water-uptake rate of slow-absorbing beans. A diffusion model was used to describe the absorption of water by the soybeans. Diffusivity was found to be dependent upon the water content in beans.