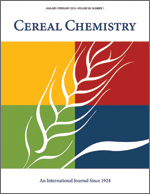 Cereal Chem 60:220 - 225. | VIEW ARTICLE
Baking and Related Properties of Wheat-Oat Composite Flours.

B. D. Oomah. Copyright 1983 by the American Association of Cereal Chemists, Inc.

Composite blends of wheat and oat flours were evaluated in terms of their bread- and cookie-making quality. Two different oat flours were investigated in composites containing up to 25% oat flour. Dough development time, dough strength, centrifuge water retention, and loaf volume decreased, and mixing tolerance increased as the amount of oat flour in the composite increased. Slight differences existed between the two oat flours in the magnitude of effects, pasting behaviors, and loaf-volume response to oxidants and sodium stearoyl-2-lactylate. There was no significant difference in the rate of gas production of wheat flour and composite doughs. Cookie spread factors increased with increasing amounts of roller-milled oat flour in the formulation, whereas those of Quaker oat flour composites remained constant.