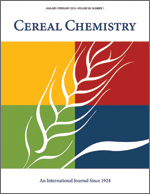 Cereal Chem 60:231 - 234. | VIEW ARTICLE
Electrophoretic and Developmental Characterization of Oat (Avena sativa L.) Globulins in Cultivars of Different Protein Content.

L. S. Robert, G. J. Matlashewski, K. Adeli, C. Nozzolillo, and I. Altosaar. Copyright 1983 by the American Association of Cereal Chemists, Inc.

Groat protein concentration in mature seeds from nine oat (Avena sativa L.) cultivars ranged from 11.9 to 19.1%. Sodium dodecyl sulfate polyacrylamide gel electrophoresis of the oat globulins under nonreducing conditions showed one major group of proteins of molecular weights 52,000-70,000. In the presence of a reducing agent, the majority of these proteins separated into two subunit groups: the alpha-subunit group (33,000-43,000 mol wt) and the beta-subunit group (20,000-25,000 mol wt). Isoelectric focusing of the reduced and alkylated globulins showed two definite groups of proteins---one acidic (pH 5.5-7.5) and one more basic (pH 9.0-10.0)---that corresponded to the alpha- and beta-subunit proteins, respectively. These findings were consistent for all the cultivars examined. The globulin banding pattern changed throughout seed maturation. During the first two weeks after anthesis, the lower molecular weight constituents of the alpha (33,000 and 35,000 mol wt)- and beta (20,000 mol wt)-subunit groups were predominant. From the third week onward, synthesis of the higher molecular weight proteins in both groups prevailed, giving rise to the typical reduced-globulin pattern.