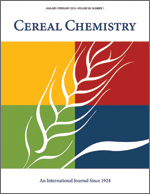 Cereal Chem 60:235 - 237. | VIEW ARTICLE
Magnesium-Phytate Complexes: Effect of pH and Molar Ratio on Solubility Characteristics.

M. Cheryan, F. W. Anderson, and F. Grynspan. Copyright 1983 by the American Association of Cereal Chemists, Inc.

Solubility characteristics of magnesium phytate complexes as a function of pH and molar ratio of magnesium (Mg) to phytic acid (PA) in pure (in vitro) systems were studied. Complexes were soluble below pH 5 at molar ratios studied (0.5-12). Above pH 5, solubility decreased rapidly. The higher the Mg:PA molar ratio, the lower the pH at which the solubility drop was observed. At Mg:PA ratios of 4 or less, phytate phosphorus was relatively more soluble than magnesium at pH greater than 5. However, at Mg:PA ratios greater than 6, the magnesium was more soluble than phytate. Our data suggest that the pentamagnesium form of phytic acid probably predominates when magnesium is in excess.