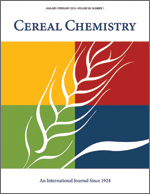 Cereal Chem 61:385 - 388. | VIEW ARTICLE
Determination of Ergosterol Using Thin-Layer Chromatography and Ultraviolet Spectroscopy.

M. Naewbanij, P. A. Seib, R. Burroughs, L. M. Seitz, and D. S. Chung. Copyright 1984 by the American Association of Cereal Chemists, Inc.

Ergosterol in grains was determined through the use of thin-layer chromatography to purify the sterol fraction of the nonsaponifiable lipids and ultraviolet spectroscopy to quantitate at 282 nm in corn and rough rice or at 293 nm in wheat. Recovery of ergosterol from silica gel was 98% when eluted in oxygen-free ethanol within 2 hr of plate development, and recovery from spiked grain samples at 84-98% for rough rice and 91-102% for corn. Repeatability of the thin-layer chromatography-ultraviolet method was good, and ergosterol values were in close agreement with quantitation by high-performance liquid chromatography (HPLC). Sensitivity was 1 microg/g. Although not as sensitive as HPLC, the technique should be useful in grain deterioration studies when HPLC is not available.