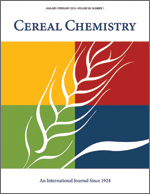 Cereal Chem 61:388 - 391. | VIEW ARTICLE
Fractionation and Characterization of Protein-Rich Material from Sorghum Alcohol Distillation.

Y. V. Wu and K. R. Sexson. Copyright 1984 by the American Association of Cereal Chemists, Inc.

Ground sorghum was fermented to produce alcohol. The residual stillage, after alcohol was distilled, was fractionated into distillers' grains, centrifuged solids, and stillage solubles. Distillers' grains and centrifuged solids, had protein contents of 45 and 39% respective ly, and accounted for 87 and 6% of total sorghum nitrogen. Eighty-six percent of the nitrogen in stillage solubles passed through a 10,000-molecular-weight cutoff membrane. The protein in distillers'grains was much less soluble than in sorghum. Lysine, expressed as grams per 16 g of nitrogen, was lower in distillers' grains but higher in centrifuged solids and in stillage solubles than in sorghum. Stillage solubles after reverse osmosis gave permeate with much lower nitrogen and solids contents, indicating that this process can be used to concentrate sorghum stillage solubles.