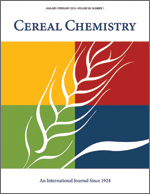 Cereal Chem 61:399 - 402. | VIEW ARTICLE
Packaging Effects on Riboflavin Content of Pasta Products in Retail Markets.

E. M. Furuya and J. J. Warthesen. Copyright 1984 by the American Association of Cereal Chemists, Inc.

Twenty enriched pasta products purchased at the retail level were analyzed for riboflavin content and were found to have a range of 1.50-7.35 microg of riboflavin per gram of pasta. Lumichrome, a degradation product of riboflavin, was deteced in eight of these products. Under controlled conditions of light, pasta packaged in paperboard cartons with or without transparent windows had approximately 100% riboflavin retention after one week. Pasta packaged in transparent bags showed 70% retention, with light intensities of 50, 150, or 250 ft-c having the same relative impact on riboflavin degradation.