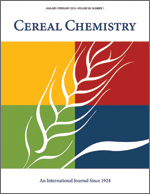 Cereal Chem 61:423 - 427. | VIEW ARTICLE
Protein-Rich Residue from Wheat Alcohol Distillation: Fractionation and Characterization.

Y. V. Wu, K. R. Sexson, and A. A. Lagoda. Copyright 1984 by the American Association of Cereal Chemists, Inc.

Whole wheat and flour were fermented to make alcohol. The residue, after alcohol was distilled, was fractionated into distillers' grains, centrifuged solids, and distillers' solubles. Distillers' grains and centrifuged solids had protein contents of 29 and 57%, respectively, and accounted for 36 and 21% of total hard wheat nitrogen. Half of the nitrogen in distillers' solubles of flour passed through a 10,000 molecular weight membrane. Lysine, expressed in grams per 16 g of N, was considerably higher in distillers' grains and centrifuged solids than wheat.