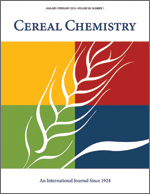 Cereal Chem 61:428 - 431. | VIEW ARTICLE
Isolation of a Fermentation Stimulant from Yeast-Protein Concentrate.

C. S. Lai, A. B. Davis, and R. C. Hoseney. Copyright 1984 by the American Association of Cereal Chemists, Inc.

Gas production of a 4-hr bakers' yeast fermentation is increased up to 25% by the addition of 0.5% of a protein concentrate isolated from brewers' yeast. A series of tests indicated that the effect is not a function of an enzyme, a metal ion, a vitamin, a nitrogen, or a fermentable sugar, which might be contained in the yeast-protein concentrate. Separation and recombination studies show that the effect is a two-part system. One part contains about 60% of the effect and is enhanced to 100% by addition of very small amounts of the second part, which by itself has very little effect on fermentation.