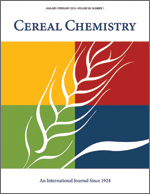 Cereal Chem 61:432 - 435. | VIEW ARTICLE
Physical Characteristics of Wheat Starch Granule Gelatinization in the Presence of Cycloheptaamylose.

H. O. Kim and R. D. Hill. Copyright 1984 by the American Association of Cereal Chemists, Inc.

Cycloheptaamylose (CHA) increased the swelling power and solubility of what starch granules during gelatinization. At a concentration of 1.5% CHA, the swelling power of the starch doubled, and the solubility almost tripled at 95 C. The effect of CHA was reduced when the starch was partially defatted. This effect was due largely to an increase in the swelling power and solubility of the starch upon defatting. Amylose leaching was also promoted by CHA. Maximum leaching when CHA was present occurred at lower temperatures than when it was absent. The viscosity of the starch pastes increased approximately fourfold at a CHA concentration of 1.5%. Cycloheptaamylose had little or no effect at or below the gelatinization temperature of the starch on any of the above characteristics. The effects of CHA on starch granule gelatinization are consistent with CHA disrupting lipid-amylose complexes by its complexing with the lipid.