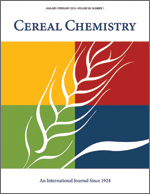 Cereal Chem 61:446 - 449. | VIEW ARTICLE
Continuous Bioconversion of Starch to Ethanol by Calcium-Alginate Immobilized Enzyme s and Yeasts.

J. E. McGhee, M. E. Carr, and G. St. Julian. Copyright 1984 by the American Association of Cereal Chemists, Inc.

Continuous bioconversion of starch to ethanol by immobilized enzymes and yeasts was studied. Commercial cornstarch (10%, w/w) was first batch-liquefied with bacterial alpha-amylase. In continuous- flow systems, liquefied starch was then converted to glucose with calcium-alginate-entrapped fungal glucoamylase, and the resulting glucose was fermented to ethanol by calcium-alginate-entrapped Fleischmann's active dry years (FADY). The continuous-flow saccharification-fermentation process were performed in either two stage (sequential) or single-stage (simultaneous) operations. In the single-stage operation, immobilized glucoamylase produced glucose from liquefied starch continuously for a total of 11 days. In the simultaneous saachrification-fermentation technique using immobilized glucoamylase and FADY mixture in a single-stage column, ethanol production was 69% of theory for five days. In the two- stage operation, in which immobilized glucoamylase and FADY were contained in separate columns connected in tandem, ethanmol production averaged 97% of theory for five days. We conclude that the overall alcohol production efficiency was significantly greater in the two-stage system than in the single- stage system.