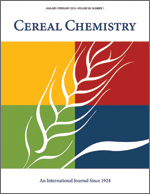 Cereal Chem 61:460 - 462. | VIEW ARTICLE
Indian Durum Wheats. I. Effect of Conditioning Treatments on the Milling Quality and Composition of Semolina.

D. K. Kathuria and J. S. Sidhu. Copyright 1984 by the American Association of Cereal Chemists, Inc.

The effect of hot conditioning on the milling quality of Indian durum and bread wheats was studied. The wheat variety DWL-5023 yielded the maximum amount of semolina with highest protein content, carotenoid pigments, and lowest lipoxygenase activity. The hot-water conditioning of the grain at 50 C for 30 min gave negligible loss of pigments in semolina. The color grade value and ash content of semolina decreased significantly with hot-water and steam-conditioning treatments.