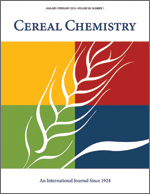 Cereal Chem 61:471 - 474. | VIEW ARTICLE
A Rapid Procedure for Isolation of the 7S Storage Protein of Cottonseed and Its Characterization.

Z. M. Zarins, R. D. Phillips, and W. H. Martinez. Copyright 1984 by the American Association of Cereal Chemists, Inc.

A rapid, simple procedure for isolating the 7X component of storage proteins of cottonseed in quantity and uncontaminated by other storage proteins was developed. This procedure, which takes advantage of the solubility characteristics of the storage proteins as a function of ionic strength and temperature, eliminates the lengthy dialysis, concentration, and lyophilization steps of previous methods and thus avoids subjection of the protein to extreme changes in environment, including pH. The storage proteins are first selectively extracted in Tris-NaCl (pH 7.0) solution, following prior removal of the nonstorage proteins by successive extractions with water. The 12 S and larger storage proteins are then selectively precipitated by 1:3 dilution of the Tris extract with water. The 7S protein is concentrated by cold precipitation (0 C) and purified by gel filtration in the original extracting solution, 0.5M Tris-0.5M NaCl(pH 7.0). The entire procedure, including one purification by gel filtration, can be completed within 24 hr. Though essentially pure by most criteria (ultracentrifugation, gel electrophoresis), isoelectric focusing on polyacrylamide gels suggests that the 7S component consists of eight components differing in charge.