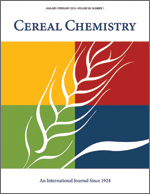 Cereal Chem 61:475 - 480. | VIEW ARTICLE
Some Physicochemical and Food Application Characteristics of California Waxy Rice Varieties.

M. M. Bean, C. A. Esser, and K. D. Nishita. Copyright 1984 by the American Association of Cereal Chemists, Inc.

Three waxy rice varieties are currently available in the United States. All are grown in California. Mochigome, the oldest variety, is preferred over the more recently developed varieties, Ampec and Calmochi-202, for making mochi, a traditional rice product. Physicochemical characteristics of the three varieties show small differences between Mochigome and the newer varieties. Additional testing is indicated to determine factors that may account for the subtle differences in mochi quality. All three varieties had short, bold, chalky grains, low gelatinization tempereatures, low amylograph viscosities, soft gel consistency, and high hydration capacity. These properties are characteristic of the short-grain, japonica types of rice. All three varieties contained negligible amounts of amylose and had the expected freeze-thaw characteristics, which show their potential for improving textures of sauces and baked products subjected to freeze-thaw cycles. These varieties appear to offer a suitable set for studies on the fine structure of amylopectin and other rice components to account for varietal differences.