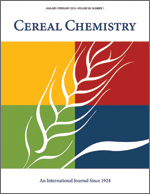 Cereal Chem 61:509 - 513. | VIEW ARTICLE
Corn Distillers' Grains and Other By-Products of Alcohol Production in Blended Foods. II. Sensory, Stability, and Processing Studies.

G. N. Bookwalter, K. Warner, J. S. Wall, Y. V. Wu, and W. F. Kwolek. Copyright 1984 by the American Association of Cereal Chemists, Inc.

Flavor and storage stability are important factors in the selection of by-products from the fermentation of grain for use in blended foods for the Food for Peace program. In addition to alcohol, fermentation of corn produces corn distillers' grain (CDG) and corn distillers' solubles (CDS), which are usually combined to produce corn distillers' grains with solubles (CDGS). Commercial sources of these products were analyzed for changes in peroxide, free fatty acid, and available lysine during storage at 49 C to establish product stability. A trained tast panel judged the flvor quality of CDGS as poor and unacceptable. The panel judged products containing 5% or more CDG with a blend of cornmeal, soy flour, and nonfat dry milk solids (NDMS)-known as corn-soy-milk (CSM)-to be significantly lower in flavor quality than CSM alone. Blends containing more than 5% CDG also produced darker-colored products. Corn-protein concentrate (CPC) had good flavor characteristics but could not be used in large amounts in blends because of its lysine deficiency. CDG flavor was improved by water washing and hexane:ethanol Azeotrope lipid extraction.