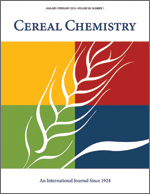 Cereal Chem 61:120 - 123. | VIEW ARTICLE
Purification and Characterization of Barley D-Hordein.

T. K. Blake, S. E. Ullrich, and R. A. Nilan. Copyright 1984 by the American Association of Cereal Chemists, Inc.

D-Hordein was purified from three barley varieties, and a glutelin of similar molecular weight was purified from one wheat variety by preparative sodium dodecyl sulfate polyacrylamide gel electrophoresis. These polypeptides were analyzed for amino acid composition and cleavage sites by sequence-specific proteases. None of the purified proteins fragmented under standard conditions of cyanogen bromide clevage, but they fragmented substantially when either D-hordein or glutelin was digested with trypsin, chymotrypsin, or Staphylococcus aureus V8 protease. Whereas amino acid analyses showed general similarity between the purified proteins, V8 protease showed a major difference in location of glutamate and aspartate residues between the D-hordeins and the purified glutelin.