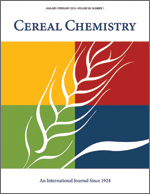 Cereal Chem 61:124 - 129. | VIEW ARTICLE
Gliadin Analysis by Reversed-Phase High-Performance Liquid Chromatography: Optimization of Extraction Conditions.

J. A. Bietz, T. Burnouf, L. A. Cobb, and J. S. Wall. Copyright 1984 by the American Association of Cereal Chemists, Inc.

Reversed-phase high-performance liquid chromatography (RP-HPLC) analysis of gliadin proteins is an excellent alternative to electrophoresis for genotype comparisons and identification of wheat varieties. This high-resolution chromatographic technique is fast, sensitive, and easily quantifiable; run-to-run reproducibility is excellent. To determine optimal conditions for extracting gliadins from wheat flour for analysis by RP-HPLC, we systematically explored the effects of the variables extraction time, defatting, prior NaCl extraction, type of extractant, and age of extract on the resulting chromatograms. Optimal extraction was achieved by using nondefatted flour, a 30-min extraction time, and no prior NaCl extraction. Aqueous 70% ethanol or 55% 2-propanol were the most suitable extractants tested; aluminum lactate buffer (pH 3.1), 2M urea, and 2M dimethylformamide extracted much albumin, globulin, and glutenin protein in addition to gliadins, resulting in more complex patterns. The recommended extraction conditions give highly definitive RP-HPLC chromatograms with minimal expenditure of time and effort.