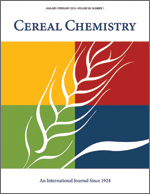 Cereal Chem 61:166 - 168. | VIEW ARTICLE
Characterization of Glandless Cottonseed Storage Proteins by Sodium Dodecyl Sulfate- Polyacrylamide Gel Electrophoresis.

H. F. Marshall, M. A. Shirer, and J. P. Cherry. Copyright 1984 by the American Association of Cereal Chemists, Inc.

Six fractions wre obtained when a 10% NaCl extract of cottonseed storage protein was fractionated by gel- filtration chromatography. The polypeptide components from each fraction were characterized for size heterogeneity with sodium dodecyl sulfate-gel electrophoresis. The results showed that covalent bonding was present between the larger subunits of the individual globulin fractions. Hydrophobic interactions contributed substantially to the stability of the globulin fractions, as smaller subunits appeared as noncovalently linked aggregates. The 7S globulin, when obtained by gel-filtration chromatography, was similar to Acalin A prepared by cryoprecipitation in numbers and molecular weights of the polypeptides present in the fractions.