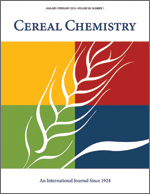 Cereal Chem 61:179 - 181. | VIEW ARTICLE
Reproducibility of 100-Gram Bread Volume as Affected by Correct-Side, Wrong-Side, or Both- Sides Break and Shred.

M. D. Shogren and K. F. Finney. Copyright 1984 by the American Association of Cereal Chemists, Inc.

Laboratory bread loaves (100 g) having correct-side, wrong-side, and both-sides break and shred had average loaf volumes of 980, 994, and 962cc and standard deviations of 12.4, 21.5, and 15.2cc, respectively. Occurrence of correct-side breaks was enhanced (up to 100%) with proper greasing of unglazed bread pans.