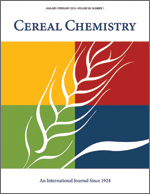 Cereal Chem 61:213 - 221. | VIEW ARTICLE
Factors Involved in the Stability of Frozen Dough. II. The Effects of Yeast Type, Flour Type, and Dough Additives on Frozen-Dough Stability.

M. J. Wolt and B. L. D'Appolonia. Copyright 1984 by the American Association of Cereal Chemists, Inc.

Shelf-life stability studies were conducted to evaluate the effects of yeast type, flour type, and various dough additives on the ability of frozen bread dough to proof in an acceptable period of time and to bake into a loaf with normal volume and bread characteristcs. In this study, fresh compressed yeast performed slightly better than active dry yeast and instant active dry yeast in proof-time stability over a storage period of 20 weeks. The surfactants sodium stearoyl lactylate (SSL) and diacetyl tartaric acid decreased the effects of frozen storage on rheological properties, but they were not effective in reducing the time to proof doughs to a specific height. Frozen doughs with SSL had greater loaf volume after baking than did doughs with no SSL, because of greater oven spring. The use of diacetyl tartaric acid was less effective than SSL in counteracting rheological changes and in maintaining loaf volume. Flour type was found to be an important variable in the proof-time stability of doughs. Based on flours used in this study, the data indicate that protein content is not a reliable indicator of a flour's performance in frozen dough. Starch characteristics in bread crumbs produced from frozen dough were found to change with frozen storage.