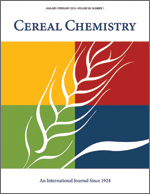 Cereal Chem 61:236 - 238. | VIEW ARTICLE
Effect on Buckwheat Protein Quality of Seed Germination and Changes in Trypsin Inhibitor Content.

K. Ikeda, K. Arioka, S. Fujii, T. Kusano, and M. Oku. Copyright 1984 by the American Association of Cereal Chemists, Inc.

The effects of germination on trypsin inhibitor activity and on in vitro protein digestibility of buckwheat seed were studied. Trypsin inhibitor activity decreased substantially as germination proceeded. The susceptibility to peptic and pancreatic hydrolysis of the proteins of the buckwheat seedlings was much greater than that of the ungerminated seeds. These findings indicate that the advantage of decreased trypsin inhibitory activity during germination may reflect better protein quality of the buckwheat seed.