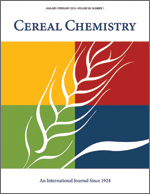 Cereal Chem 61:239 - 241. | VIEW ARTICLE
Growth-Depressing Effects of 5-n-Pentadecylresorcinol: A Model for Cereal Alkylresorcinols.

K. Sedlet, M. Mathias, and K. Lorenz. Copyright 1984 by the American Association of Cereal Chemists, Inc.

Tests were performed on male weanling rats to determine whether 5-pentadecylresorcinol (PDR) causes appetite depression, which, in turn, depresses growth, or if some effect apart from palatability is responsible for the observed growth depression. Two experiments were performed to assess effects on food intake and body weights in a pair-feeding experiment, using diets with three levels of added PDR, and effects on food intake and body weights in a pair-fed experiment when PDR was force-fed at two levels. Generally, PDR depressed growth through a depression of food intake, and this was observed with both modes of administration. Approximately 70% of the growth depression was attributed to decreased food intake, and 30% was due to a toxic effect of PDR. Histopathological evaluations of internal tissues of rats did not show any abnormalities.