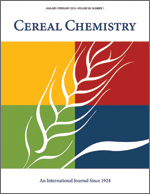 Cereal Chem 61:241 - 243. | VIEW ARTICLE
Oil-binding Capacity of Prime Starch from Chlorinated Wheat Flour.

M. Seguchi. Copyright 1984 by the American Association of Cereal Chemists, Inc.

Prime starch recovered by wet-fractionating serially chlorinated flour demonstrated that oil binding progressed with the rate of chlorination. This capacity was decreased when chlorinated starch was treated with proteolytic or amylolytic enzymes or with a solution of dilute acid. Chlorinated starch did not respond well to the iodine test, until it was treated with a proteolytic enzyme. The oil-binding capacity of chlorinated starch was attributed to the starch's having a surface coating of proteins. Treatment of such starch with certain lipid solvents had little effect on oil-binding capacity.