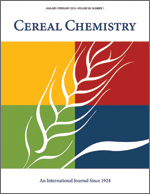 Cereal Chem 61:248 - 250. | VIEW ARTICLE
Oil-binding Ability of Heat-treated Wheat Starch.

M. Seguchi. Copyright 1984 by the American Association of Cereal Chemists, Inc.

Prime starch fractionated from heat-treated wheat flour was found to possess high oil-binding ability. Prime starch heat-treated at 100-160 C for 1 hr also possessed this ability. Treatment of heat-treated prime starch with 1% sodium dodecyl sulfate, water-saturated 1-butanol, or a mixture of chloroform-methanol (2:1) had no effect on this ability. Treatment with 7% HCl, 0.2% NaOH, alpha-amylase, or pepsin effectively caused oil-binding ability to be lost.