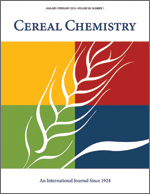 Cereal Chem 61:251 - 254. | VIEW ARTICLE
Dry-roasted Air-classified Edible Bean Protein Flour Use in Cake Doughnuts.

P. S. Spink, M. E. Zabik, and M. A. Uebersax. Copyright 1984 by the American Association of Cereal Chemists, Inc.

When 0-30% dry-roasted air-classified navy, pinto, or black bean protein flour was substituted for all- purpose flour in cake doughnuts, fat absorption decreased as the level of substitution increased. All levels decreased doughnut height relative to the control. The doughnuts with 30% navy or pinto bean protein flour spread less during cooking than did the control. Navy bean protein substituted at the level of 10 and 20% produced a doughnut more tender than the control or doughnuts from other bean types. The doughnuts made from navy and pinto protein flour were brownish, whereas those from the black bean protein flour were gray. A sensory panel also found that doughnuts containing black bean protein had poor color. None of the other sensory characteristics were significantly different. Consumer panels indicated that a 13% substitution of navy or pinto protein for the dry mix produced doughnuts that tasted good and were well liked. These doughnuts also had less fat, were softer, and showed less firming after six days of storage.