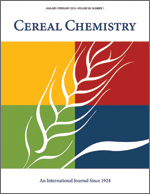 Cereal Chem 62:258-262 | VIEW ARTICLE
Effect of Wheat Variety on the Relationship Between Falling Numbers and Alpha-Amylase Activity.

P. L. Finney. Copyright 1985 by the American Association of Cereal Chemists, Inc.

For 12 wheat varieties standard curves were established that related alpha-amylase activity to falling number values, and a method was developed that accurately quantifies alpha-amylase activity by using only falling numbers. The method essentially eliminates the genetically controlled factors, other than alpha- amylase, that affect falling numbers.