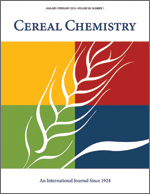 Cereal Chem 62:310-313 | VIEW ARTICLE
Polyacrylamide Gel Electrophoresis for Wheat Variety Identification: Effect of Variables on Gel Properties.

K. Khan, A. S. Hamada, and J. Patek. Copyright 1985 by the American Association of Cereal Chemists, Inc.

A polyacrylamide gel electrophoresis procedure was investigated to determine its suitability for wheat variety identification by analysis of gliadin proteins. Relative amounts of the gel catalysts (ascorbic acid, ferrous sulfate, and hydrogen peroxide) had profound effects on gel polymerization time, pore size, firmness, and stickiness. Gels of varying firmness were obtained by varying relative amounts of catalysts. Gel firmness and pore size affected resolution of the gliadin proteins. Scanning electron microscopy showed differences in the physical structure of gels of different firmnesses.