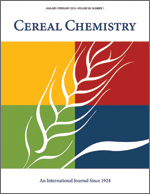 Cereal Chem 62:314-319 | VIEW ARTICLE
One- and Two-Dimensional (Two-pH) Polyacrylamide Gel Electrophoresis in a Single Gel: Separation of Wheat Proteins.

D. Lafiandra and D. D. Kasarda. Copyright 1985 by the American Association of Cereal Chemists, Inc.

A procedure is described for one- and two-dimensional polyacrylamide gel electrophoresis of wheat proteins with commercially available equipment. The first separation is carried out at pH 3.1 and the second at pH 9.2. Both separations are carried out in the same gel, leading to enhanced resolution. The system should also be applicable to other types of proteins and could be modified to incorporate alternate buffer systems.