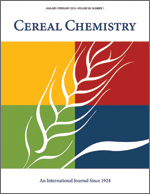 Cereal Chem 62:345-350 | VIEW ARTICLE
Identification of Oat Cultivars by Combining Polyacrylamide Gel Electrophoresis and Reversed- Phase High-Performance Liquid Chromatography.

G. L. Lookhart. Copyright 1985 by the American Association of Cereal Chemists, Inc.

Prolamins were extracted from 23 United States oat cultivars consisting of the top seven commercially grown varieties from each of the five major oat-producing states (Iowa, Minnesota, North Dakota, South Dakota, and Wisconsin). Ten of these cultivars were readily differentiated by polyacrylamide gel electrophoresis of their prolamins. The other 13 cultivars segregated into three groups: the members of each group had identical electrophoregrams and generally had very similar pedigrees. Prolamin extracts of the cultivars from each group were also subjected to reversed-phase high-performance liquid chromatography. Differences in the resulting chromatograms allowed differentiation of all members in each group.