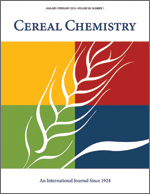 Cereal Chem 62:423-427 | VIEW ARTICLE
Effect of Whole Yeast and Various Fractions on Some Properties of Extruded Starch.

C. S. Lai, A. B. Davis, and R. C. Hoseney. Copyright 1985 by the American Association of Cereal Chemists, Inc.

Whole yeast and some major fractions of whole yeast were added individually to starch and extruded under controlled conditions. Compari son of extrudate parameters of breaking strength, expansion, shear strength, and visual morphology indicated that differences exist in the effects of the various components on starch extrusion. Data indicate that the breaking strength of extruded material may be altered independently of the degree of expansion. It also appears that small differences in the quantities of yeast or yeast fractions added to a starch extrudate have relatively large effects on extrusion parameters.