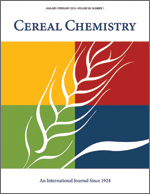 Cereal Chem 62:441-446 | VIEW ARTICLE
Noodles. IV. Influence of Flour Protein, Extraction Rate, Particle Size, and Starch Damage on the Quality Characteristics of Dry Noodles.

N. H. Oh, P. A. Seib, A. B. Ward, and C. W. Deyoe. Copyright 1985 by the American Association of Cereal Chemists, Inc.

The optimum cooking time of oriental dry noodles increased linearly with protein content. High-protein noodles were darker and stronger, and were firmer internally when cooked than low-protein noodles. However, protein content was not correlated with surface firmness. At high rates of flour extraction, noodle color darkened, but the internal firmness of cooked noodles did not change. The optimum absorption of noodle dough increased with starch damage and fineness of granulation. Increasing starch damage reduced both internal and surface firmness of cooked noodles; decreasing particle size improved the strength of uncooked noodles but did not affect noodle color or firmness of cooked noodles.