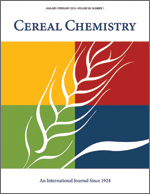 Cereal Chem 62:458-462 | VIEW ARTICLE
Mechanical Dough Development- Dough Water Level and Flour Protein Quantity.

P. K. Skeggs. Copyright 1985 by the American Association of Cereal Chemists, Inc.

Using a laboratory-scale version of a commercial bakery process commonly used in the United Kingdom, the interaction of dough consistency and the response of bread quality to changes in flour protein level was studied. Protein response was shown to depend on the dough consistency being used: there was little or no response with very slack doughs, but at higher consistencies the response to increased flour protein became apparent. These results highlight the importance of defining the system used to study the baking response of any variable being investigated, as the conclusion of the study may well be as dependent on the baking system chosen as it is on the variable itself.