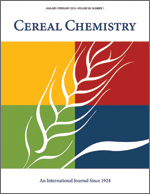 Cereal Chem 62:470-473 | VIEW ARTICLE
Protein-Rich Alcohol Fermentation Residues from Corn Dry-Milled Fractions.

Y. V. Wu, K. R. Sexson, and A. A. Lagoda. Copyright 1985 by the American Association of Cereal Chemists, Inc.

Grits, flour, degerminator meal, and hominy feed from corn dry-milling were each fermented to produce ethanol. The residues, after ethanol was distilled, were fractionated into distillers' grains, centrifuged solids, and stillage solubles. Corn grits distillers' grains had 68% protein and accounted for 49% of the fermentation residue. Most of the nitrogen in stillage solubles passed through membrane with a 10,000 molecular weight cutoff. Nitrogen compounds in distillers' grains were less soluble than those of the dry- milled fraction from which they were derived. Lysine was considerably enriched in degerminator meal, hominy feed, and their fermentation products compared to that in grits, flour, and their distillers' grains. Fermentation of corn dry-milled fractions to make ethanol results in a number of by-products potentially superior to those of corn distillers' grains.