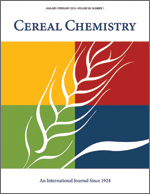 Cereal Chem 62:476-477 | VIEW ARTICLE
Note: Retention of Selected B Vitamins in Cooked Pasta Products.

G. S. Ranhotra, J. A. Gelroth, F. A. Novak, and R. H. Mathews. Copyright 1985 by the American Association of Cereal Chemists, Inc.

Four brands of each of spaghetti, egg noodles, and macaroni were purchased in four U.S. cities and were analyzed for six B vitamins including the three enrichment vitamins, thiamin, riboflavin, and niacin. For the majority of products, the content of the enrichment vitamins in the dry products met the prescribed standards. A good portion, one-half to three-fourths, of the vitamins was retained following cooking. One serving of the cooked products (=5.75 oz) provided up to 30% of the recommended daily dietary allowance of thiamin, 11% of riboflavin, 19% of niacin, 4% of folic acid, 3% of pantothenic acid, and 2% of vitamin B6.