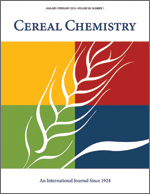 Cereal Chem 62:478-480 | VIEW ARTICLE
Note: Discrimination Between Arthur and Arkan Wheats by Image Analysis.

I. Zayas, Y. Pomeranz, and F. S. Lai. Copyright 1985 by the American Association of Cereal Chemists, Inc.

A canonical function for discriminant analysis was developed to differentiate between wheat cultivars Arthur (soft red winter) and Arkan (hard red winter) examined by image analysis. In four samples of either Arthur or Arkan selected by the Federal Grain Inspection Service/U.S. Department of Agriculture to vary widely in morphological characteristics, 235 out of 240 kernels were identified correctly. Similarly, 208 of 209 kernels of Arkan from six wheat heads (three from each of two locations) were identified correctly. The discrimination between Arthur and Arkan was successful when samples were examined in the presence of eight other hard red winter or soft red winter wheat cultivars.