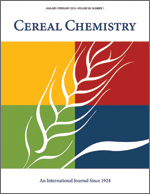 Cereal Chem 62:75-80 | VIEW ARTICLE
The Effect of Frost Damage on the Milling and Baking Quality of Red Spring Wheat.

J. E. Dexter, D. G. Martin, K. R. Preston, K. H. Tipples, and A. W. MacGregor. Copyright 1985 by the American Association of Cereal Chemists, Inc.

The effect of frost damage on the milling and baking performance of hard red spring wheat was examined in frost-damaged Canada Feed cargoes from the 1982-1983 crop year. As the degree of visual frost damage increased, flour yield decreased, flour ash increased, and flour color darkened. The extreme hardness of badly frost-damaged wheat caused large energy requirements during milling, poor mill balance, excessive flour starch damage, and unsatisfactory physical dough properties. Scanning electron micrographs of kernels and middlings from frost-damaged wheat revealed a structure consistent with very hard wheat. Baking quality deteriorated with increased frost damage. Milling frost-damaged wheat to low starch damage showed that poor gluten quality (rather than excessive starch damage) was the major contributing factor to poor baking performance. To exhibit commercially acceptable milling and baking performance, the frost- damaged wheat had to be blended with at least 70% higher quality wheat.