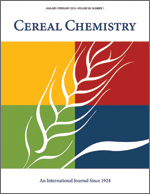 Cereal Chem 62:80-83 | VIEW ARTICLE
Effect of Wet Harvesting on Biodeterioration of Rice.

M. N. Sahay and S. Gangopadhyay. Copyright 1985 by the American Association of Cereal Chemists, Inc.

Two varieties of rice, Ratna and Annapurna, were subjected to four processing conditions after high moisture harvest. Leaving the harvested crop in windrows on the bund (embankment of the plot) and then stacking it in the open increased exposure to rain and resulted in deterioration of grain. Delayed and improper processing associated with rain resulted in decreased head rice yield, discoloration of grains, infection by fungi, and production of mycotoxin. Maximum grain deterioration resulted when the crop was piled into a stack; this lowered head rice yield and led to production of mycotoxin. Under identical processing conditions, Ratna tended to perform better than Annapurna in milling, head rice yield, and resistance to infection by fungi. Delay in drying a wet-season crop resulted in mold formation, increase in temperature, and even germination leading to biodeterioration. Immediate oven or sun drying seems to be the best way to prevent deterioration of the rice crop.