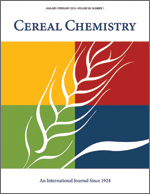 Cereal Chem 62:83-88 | VIEW ARTICLE
Functional Properties of Some European Wheats Grown in Europe and Kansas.

K. F. Finney, E. G. Heyne, M. D. Shogren, L. C. Bolte, and Y. Pomeranz. Copyright 1985 by the American Association of Cereal Chemists, Inc.

Breadmaking properties of 17 European wheats grown in Europe and Kansas were compared. Mixing properties, loaf volumes per unit of protein, and/or crumb grains of the European wheats grown in Kansas generally were superior to those of corresponding samples grown in Europe. The wheats were placed in category A, B, C, or D according to mixogram mix time, loaf volume potential, and bread crumb grain. Nine of the 17 Kansas-grown samples were one-half to two categories higher than the corresponding European-grown samples.