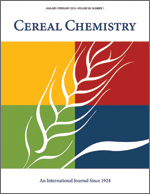 Cereal Chem 62:89-96 | VIEW ARTICLE
High Performance Liquid Chromatographic Separation of Peptides for Sequencing Studies.

B. L. Jones and G. L. Lookhart. Copyright 1985 by the American Association of Cereal Chemists, Inc.

High performance liquid chromatography (HPLC) has proven valuable in preparing, separating, and analyzing peptides for amino acid sequencing studies. The method is especially useful in instances where only small amounts of protein are available for sequencing. This paper reports several ways we have used HPLC peptide separations while determining the amino acid sequences of thionin proteins isolated from diploid wheat relatives. HPLC was used to confirm the purity of the thionins prior to sequencing, to separate thionins from each other, and to monitor the progress of enzymatic protein hydrolysis reactions to ensure that hydrolysis was complete. The method was used to analyze the proteolytic peptide "fingerprints" of thionins purified from bread wheat and from wheat relatives. This gave an indication of which of the bread wheat thionins was most similar (or identical) to that isolated from the diploid relative. Finally, HPLC was used to separate enzymatic hydrolysates of purothionins into pure piptides that were collected for further analysis.