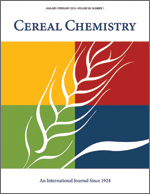 Cereal Chem 62:103-107 | VIEW ARTICLE
Sensory Interactions of Formulations to Mask Potassium Chloride Flavor Using Morton Lite Salt Mixture in White Pan Breads.

M. Stroh, C. S. Setser, B. Bruinsma, M. Shogren, and P. A. Redlinger. Copyright 1985 by the American Association of Cereal Chemists, Inc.

White pan breads containing three soy-based ingredients (milk replacer, dough conditioner, and oil) were compared with nonsoy containing breads to determine the effect of soy on the atypical flavor notes when using Morton Lite Salt, a mixture of sodium chloride and potassium chloride. Use of Lite Salt in bread shortened proof time and significantly decreased the sodium:potassium ratio. Soy ingredients had no effect on sensory bread softness or gumminess and did not intensify astringent mouthfeel or bitterness of breads containing Lite Salt; to the contrary, soy dough conditioner seemed to have some masking effect on bitterness. Also, breads containing soy ingredients were significantly less firm according to instrumental assessments and had greater volume than the nonsoy-containing breads. In the second part of the study, white pan breads with two levels of sucrose and Lite Salt and varied combinations of autolyzed yeast, milk solids, or butter (as a spread) did not differ significantly from the standard bread with sodium chloride.