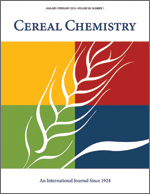 Cereal Chem 62:117-119 | VIEW ARTICLE
Retention of Selected Minerals in Enriched Pasta Products During Cooking.

G. S. Ranhotra, J. A. Gelroth, F. A. Novak, M. A. Bock, and R. H. Matthews. Copyright 1985 by the American Association of Cereal Chemists, Inc.

Four brands of three commercially produced enriched pasta products (spaghetti, egg noodles, and macaroni) were obtained from four major U.S. cities. Iron (Fe), calcium (Ca), phosphorus (P), magnesium (Mg), zinc (Zn), copper (Cu), manganese (Mn), sodium (na), and potassium (K) were determined in cooked and uncooked products to assess possible losses during cooking. Results showed that the products were virtually free of Na but contained significant amounts of the other minerals analyzed except Ca. True retentions following cooking were high with average values, 81-102% for all minerals except K. Potassium retention averaged only one-third the amount in dry products. A 10-oz serving of the cooked products provided 31, 24, 16, 16, 12, 9, 5, and 2% of the daily need for Mn, Fe, P, Cu, Mg, Zn, K, and Ca, respectively.